How does ESPN plus stack up against other sports streaming services in Australia
Among different sports streaming services, ESPN Plus won the hearts of sports fans. This streaming service is not available in many countries and Australia is among them.
So, how to watch ESPN Plus in Australia to enjoy every type of sports event? Don't worry! There is a way to stream it in this country. A premium VPN subscription can solve this problem.
Once you start to stream ESPN Australia, the sports-watching experience is going to be the best. On top of that, if you are a die-hard fan of American sports, then ESPN plus with a VPN can be great.
What is ESPN Plus?
Do you know about ESPN? It is an American cable service and now they are streaming a wide range of services. ESPN is an American international basic cable sports channel owned by ESPN Inc., owned jointly by The Walt Disney Company and Hearst Communications. The company was founded in 1979 by Bill Rasmussen along with his son Scott Rasmussen and Ed Eagan.
To reach sports fans from different countries, ESPN launched more sports-related programs like ESPN Plus. Now it is streaming live sports, different sports events, and documentaries.
What are the pros and cons of streaming ESPN Plus?
ESPN Plus is giving tough competition to other streaming services but every sports streaming service has a few complications as well. Here are the pros and cons of this popular streaming service.
Pros: 
Based on the plan, its price is lower than other streaming services. So, it's extremely affordable.
Plenty of events available to watch.
You can enjoy tons of out-of-market NHL games.
A pay-per-view option is available.
Offers a wide range of coverage of niche sports.
Has a handy on-demand library.
The regular ESPN app works great for ESPN Plus.
Cons:
Without a pay TV login, it is not possible to stream ESPN's TV network.
It is not possible to get any kind of high-profile game broadcast.
Few services are costly, especially UFC content.
Is ESPN Plus good enough compared to other streaming services? 
Undoubtedly, ESPN Plus is good enough as an on-demand streaming service. It is a better sports streaming service compared to all other sports streaming services like Amazon Prime Videos, DirectTV, and HULU.
For better understanding, we made a comparison table. Take a quick look at it.
| | | | | |
| --- | --- | --- | --- | --- |
| Services | Price | Rating | Streams | Video |
| ESPN Plus | $9.99/mo. | 4.1/5 | 2 | 1080P |
| Netflix | $9.99–$19.99/mo. | 4.2/5 | 1–4 | 1080p, 4K |
| Hulu | $7.99–$14.99/mo. | 4.5/5 | 2 | 1080p, 4K |
| Amazon Prime Video | $8.99–$14.99/mo. | 4.2/5 | 3 | 1080p, 4K |
| Disney+ | $7.99/mo. | 4.6/5 | 4 | 1080p, 4K |
| HBO Max | $9.99–$14.99/mo. | 4.5/5 | 3 | 1080p, 4K |
| Paramount+ | $4.99–$9.99/mo. | 4.3/5 | 3 | 1080p, 4K |
Which types of content can you watch on ESPN Plus?
From the biggest sporting league to badminton tournaments, everything is available on ESPN Plus. Here's a list of shows you can watch on ESPN Plus.
Boxing (Top Rank)
MMA (UFC, PFL)
Golf (PGA Tour, Masters)
Baseball (MLB, Little League, World Series, etc.)
Tennis (Australian Open, Wimbledon, US Open, WTT)
Soccer (LaLiga, Bundesliga, EFL, Emirates FA Cup, etc.)
Cricket (IPL, Indian Cricket, New Zealand Cricket)
Basketball (college)
Hockey (NHL)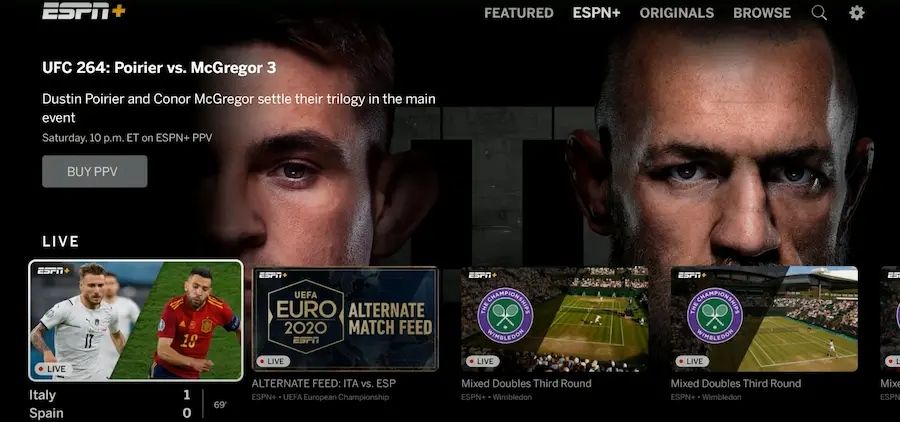 One more thing! Don't forget to browse the '30 for 30' libraries of this streaming service. Here you find UFC, ESPN Plus Originals, daily sports talk, and different premium sports-related articles.
Which platforms does ESPN Plus works on?
ESPN Plus runs on different platforms. Even after using a VPN, you can run ESPN Plus in Australia through different platforms. Here is the list of all these platforms to run ESPN Plus properly.
Samsung smart TVs
Apple devices
Android devices
Google Chromecast
Facebook Portal TV
Oculus Go
PlayStation 4 and PlayStation 5
Amazon Fire TV and tablet
Roku
Which VPN works properly to stream ESPN Plus in Australia?
There are plenty of options for VPN, you can choose to get a premium subscription to run ESPN Plus. So, what are they? Let's find the best VPNs for you below.
ExpressVPN
Hotspot Shield
Conclusion
ESPN Plus is a sports streaming service that lets us enjoy all the sports events happening around the world. Among different streaming service options, sports fans want the best one that offers a healthy variety.
ESPN Plus is the easiest option, especially when you are in Australia. This streaming service makes streaming better and lets you discover more and more events.
All you need is a reliable premium VPN service to get access to this service and enjoy your cherished sports events.