5 Trending In Interior Design Ideas For 2022
In this article, we will discuss 5 Trending in interior design ideas for 2022. Are you settling into a new space and maybe looking for a special home interior design idea that will bring more style?
New trends are presented every year, but we are only interested in those that are expected to last a long time.
2022 led to delve deeper into both the unique style and the way the interior accents affect well-being and communication. So, here are 5 discoveries, their benefits, and their applications.
Communicable" Space
Have you ever wondered how certain furniture, details, room planning choices affect not only the overall picture of a room but also your communication skills?
Architects and designers argue that one of the key challenges in creating a blueprint for modern spaces is to create an ideal environment that respects privacy choices but also promotes social engagement like never before.
In this regard, the following help to keep the conversation open and build community together:
The right choice of furniture design,

Sufficient seating capacity,

Convenient and functional furniture design solutions,

Open space plan,

Bright, nice, fresh atmosphere.
For example, the choice of sofas for the living room is huge, but if you want to create a communicative environment, this accent should not only be stylish.
In the Smart Furniture catalog, look into the spacious, soft corners, the shape of which allows you to both relax in solitude and change positions comfortably while engaging in a conversation.
Also, make sure that the height and width of the furniture are proportionate. Combine a modern, easy-care, comfortable coffee table with this soft corner.
The open layout of the space, ie the common space of the kitchen, dining room, and living room, creates visual openness and a comfortable flow of movement.
Because there are no doors and walls separating the spaces, communication is encouraged. For example, cooking makes it easy to get involved in discussions that boil over a coffee table or dining table. 
Ensuring easier movement gives privacy to other rooms because the main transition room is an open space. Therefore, to access the toilet or outdoor terrace (if any), there is no need to move through other rooms and disturb family members there.
Also, various interior design ideas are easier to apply in open spaces as they have more free space to fulfill fantasies.
Nature Inspired Housing
Although it is difficult to find a house dominated by strictly one interior style, it is noticeable that one of the dominant lines is organic, natural, minimalist.
Nature-inspired housing began to gain tremendous popularity during quarantine when homes were to replace not only a haven of peace but also an office that did not hinder creativity. Interior accents and materials that help to form an organic oasis: 
natural materials and textures: stone, wood, linen, cotton, glass,

earth color palette: brown, brown, gray, white, peach, amber,

many details of plants and greenery,

organic decorations,

home scents in unique containers.
These interior accents help to create a sense of harmony in the home. Houseplants provide vitality, and keeping them in one place can create a home-grown botanical garden. Bad thoughts and emotions disappear when watering or otherwise caring for flowers.
By choosing the right scent for your home, you can create a soothing and meditative space that allows you to relax after a long day at work.
If you don't want home scents, candles can replace them. In the evening, the light they emit will envelop you in coziness, and watching the flame will put you to rest.
Multifunctional Space And Smart Furniture
As we have already mentioned, we try to adapt the space to our various needs: work, passive rest in solitude, socially active time. The truth is that we usually don't have that kind of luxury home to have a separate room for every need, so we have to use creative solutions.
In this case, the creation of mobile "easy-to-change" walls that preserve the benefits of open space is facilitated.
If you have a smaller site, a single table transformer can perform multiple functions. For example, such furniture can be easily transported from a coffee table to a dining table and vice versa.
Therefore, without the need to unfold, it will look like a regular coffee table. Also, furniture transformed into a dining table can unfold further. This is especially true when you need to accommodate more guests or family members in one place. 
Such creative ideas are best suited for those who love a changing space. The built-in screen is easy to move from one place to another, and the coffee table, when changed to a dining table, can be kept unfolded as much as you want.
So, if you want a modern and functional home, universal ideas for a home like the above will perfectly live up to your expectations.
The Art Of Natural Lighting Control
It can be said that this year not only ensured the dominance of the bright color palette but also, in general, highlighted the importance of light sources.
Particular attention is paid to home interior design ideas that ensure abundant access to and retention of natural rays. What are the ways to make the most of nature's gift? Space installation experts name the following:
Reflective, glossy furniture surfaces, 

Extremely light, completely non-darkening window fabrics, 

Replacement of traditional gypsum partitions with built-in shelves, "walls" of glass and metal construction,

Glass, wide room doors.
Why did this suddenly become one of the most important criteria for installing a room?
There is an increasing interest in the components that promote energy, positivity, productivity, and involvement in space. It is therefore not at all surprising that the positive effects of light have come to the fore.
Other interior accents such as mirrors are great items that reflect natural rays of light. Created their composition on the wall – an original and practical solution.
A mirror that "catches" the falling sunlight will illuminate part of the room, giving more light. Both wall-mounted and built-in mirrors give the home a sense of aesthetics and complement the interior.  
It is important to keep in mind that the walls are painted in light colors and light furniture reflects light. When considering how to paint your home or what color to buy, first think about how much light you want to let into your home. To create a sense of purity and harmony, it is suggested to choose lighter muted tones. 
Another advantage of a bright interior is a positive effect on the emotional state. Gentle tones have a soothing effect, which helps to relax after an intense and hard day's work. Especially when the gloomy and breezy air outside the window, bright colors create an oasis of peace and give positive emotions.
Stylish Home Office Area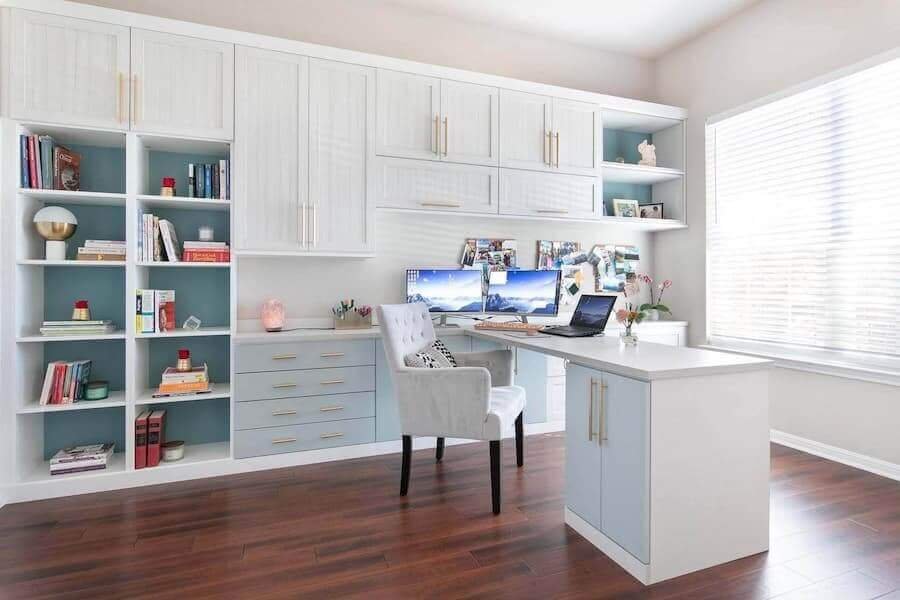 Probably one of the hottest topics this year is work from home. The challenges of remote work management have not only shaped a new approach but have also brought new winds to the home.
More precisely, the planning of these spaces, the division of recreation, and work areas. If in the past work at home was a rare phenomenon that perfectly matched the surface of the kitchen table, today everything has moved to a whole new level. 
Of course, the installation of an extra corner in spacious homes is not a problem, much more interesting, what brilliant home interior ideas "saved" the owners of small apartments and houses?
In order for a small home office to look like a pre-planned part of a room, it needs to be clearly "framed", given privacy. Here are some valuable and commonly used discoveries: 
zoning of areas, 

ensuring privacy with built-in shelves,

wall tables.
Still, looking for a smart solution? Create a separate "island" for your workplace by laying a stylish, harmonious, or interesting contrasting carpet. It turns out carpets are not just beautiful interior accents!
If you have a little space without blocking the light, build a bookshelf: built along the edge of the table, it will effectively insulate the corner of the gathering on one side.
By the way, if your home is too cramped for any additional product, it is worth visiting the "Smart Furniture" work furniture catalog – here you will find wall tables, which you can easily unfold, and then, after finishing the work, simply close it!
Like adults, children have more and more time to spend at home, ie learning remotely. Therefore, it is important not to forget to create a favorable space for this.
As children engage in a wide range of activities in the room, it is advisable to separate the learning space. It is therefore recommended to purchase desks with plenty of drawers and shelves to accommodate all the necessary stationery.
To maintain an attractive interior in the children's room, purchase modern and functional furniture. For example, children will be able to store a variety of valuables on high shelves.
This way, they will not fall to the ground and it will be much easier to maintain order. Also, it is necessary to leave free space for the child's creativity, so when choosing furniture, take into account your offspring's hobbies and hobbies.